LANGVARIGE GARANTIER FOR
LANGVARIGE PRODUKTER
Hos EGO er vi stolte af at fremstille produkter, som ikke kun har benzinmatchende effekt, men som også er pålidelige og robuste. Derfor er alle vores produkter dækket af udvidede garantier*, som du kan stole på.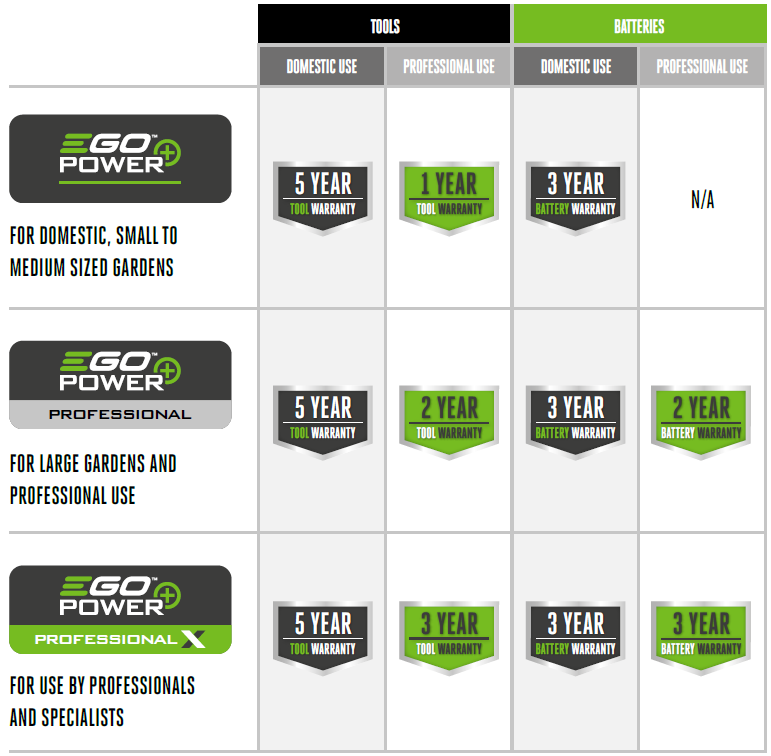 Vi er så sikre på vores produkters ydeevne, at vi tilbyder professionelle brugere en 3-årig garanti på Professional-X-serien og en 2-årig garanti på Professional-serien, når værktøjet registreres inden for 30 dage efter købet. Til private brugere tilbyder vi 5 års garanti på alle værktøjer og 3 års garanti på batterier, når de er registreret inden for 30 dage efter købet.
SUPPORT AF VORES SERVICE FORHANDLER NETVÆRK
Med et landsdækkende netværk af EGO godkendte serviceforhandlere er du aldrig langt fra den støtte, du har brug for. Vi kan udvælge det bedst egnede produkter til dine behov, give dig personlig rådgivning, når du har brug for det, og yde en diagnoseservice, så dit værktøj kan køre i mange år fremover.
TERMS AND CONDITIONS
This guarantee does not limit the buyer's rights arising from the contract of sale with the reseller or applicable statutory rights.
Defective product will be repaired or exchanged free of charge if it can be verified that the defects were caused by a material or manufacturing fault.
This warranty does not cover parts or consumable accessories subject to wear & tear during use.
This warranty only covers defects arising under normal usage and does not cover any malfunction, failure or defect resulting from misuse, abuse (including overloading of the product beyond capacity and excessive exposure to water or rain), accidents, neglect or lack of proper installation and improper maintenance or storage.
This warranty applies only to the original purchaser at retail and may not be transferred.
This warranty does not cover the damage resulting from modification, alteration or unauthorized repair.
Claims under the warranty must be made within the warranty term. The equipment must be returned together with the original proof of purchase (stating the purchase date and product description) to the reseller from whom the equipment was originally purchased. In the event that this is not possible please use the details provided on this website to contact your authorised EGO Power+ service centre.
Faulty EGO Power+ batteries MUST NOT be shipped via any 3rd party transportation system without first contacting the retailer from which it was purchased.
Any claims other than the right to have the defect rectified as stated in this warranty are excluded. The warranty term for the equipment is not extended or renewed as a result of any rectification of the equipment being undertaken.
 
Full terms and conditions are available upon request.